Boat Loans in Australia: Finance Your new Boat in 2023
Boat Loans Australia
Are you dreaming of cruising Australia's waterways in your very own boat or jet ski? If a boat is on your wish list, you'll likely be considering boat financing options.
A boat loan is suited to those who don't yet have the cash available to purchase a boat outright or those who would prefer to spread out the cost of their purchase – leaving more money available for other expenses and investments.
Boat loans are accessible to many Australians, but eligibility criteria does apply. Meaning that not everyone will be eligible for a boat loan.
Australia is home to many banks and lenders who will provide financing options for boat purchases. It's not just the big four banks either. There are numerous small banks and non-bank lenders to consider when financing a boat for personal or business use.
Continue reading to learn more about how you can secure financing for your next boat.
How does a boat loan work?
A boat loan is very much like a car loan or caravan loan. With a secured boat loan, the financier will lend you money to be used for purchasing the boat or jet ski you want.
The lender will release the funds for the purchase of the boat when you complete your boat purchase and then you will begin making regular repayments.
This money is paid back to the lender over multiple years and you will also pay interest on the loan. You will generally pay off the loan in weekly or monthly repayments.
The boat is used as security, meaning if you're unable to make your repayments then the lender has the right to take control of the boat.
You can also consider unsecured personal loans for buying a boat. With an unsecured personal loan, the boat is not used as security by the financier. However, the downside is that you will generally pay a higher interest rate.
How to compare boat loans
With so many boat finance options available in Australia, it can be a difficult task to compare boat loans. This is why we generally recommend going through a boat loan broker like Credit One.
A broker will be able to compare dozens of lenders for you, finding the lender most suited to your requirements.
Many boat buyers will turn to comparison websites like Finder and Compare The Market when searching for boat loans. However, it's impossible for these websites to factor in personal factors like your credit score and borrowing history when comparing rates.
While a good broker will be able to find the best lender suited to your personal profile. A broker can also take into consideration other key features of loans available that are important to you. You can tell your broker if you would prefer loans with flexible repayment terms or with no early termination fee.
If you want to compare loans yourself, be sure to look at more than just the advertised interest rates and comparison rate. You might want to look at which lenders offer low fees, balloon payments, fast approvals and other features that are important to you.
How to apply for boat financing
Starting the boat loan application process is relatively straightforward. You can begin an enquiry online through the websites of most lenders and finance brokers.
To apply for a boat loan through Australia's best-reviewed finance broker – Credit One, you can simply enter your details on this form on the website. A broker will then contact you to discuss your application and assist you through the rest of the application process.
How much are repayments on a boat loan?
Naturally, you will want to know how much your repayments will be when you're applying for boat finance.
As with any other type of finance, repayments are calculated based on many factors. This includes…
The amount you borrow
The interest rate on the loan
The term of the loan
Payment frequency
If you already know how much you want to borrow, you can use a finance repayment calculator to get an estimate of repayments.
As an example, the calculation below shows the repayments on a $25,000 boat loan, with a loan term of 5 years and an interest rate of 5.48% would be $110.15 per week.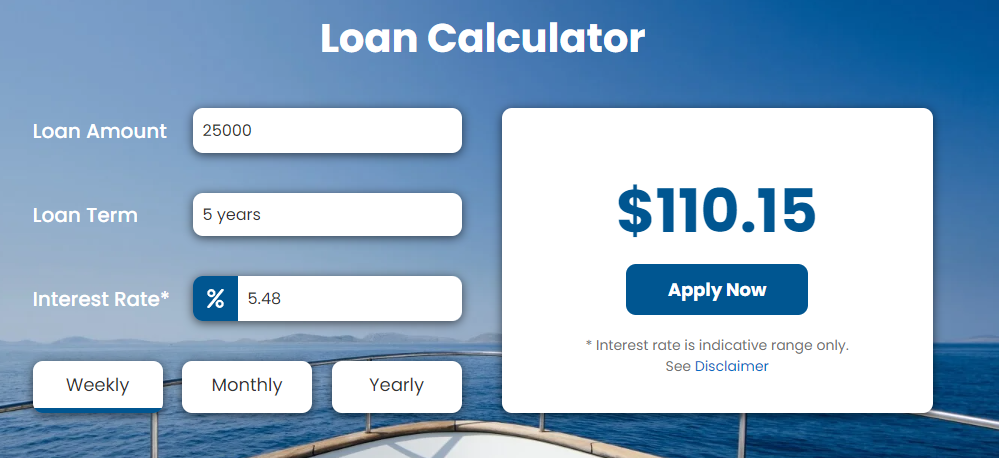 Obviously, the larger your loan amount is, the higher your repayments will be. To reduce repayments, some borrowers choose to pay a larger upfront deposit when purchasing their boat, thereby reducing the loan amount.
By choosing a longer loan term, you can spread your payments over a longer period of time. This means that your regular repayments will be smaller.
How much does a boat cost?
Boats are usually not cheap. This is one of the main reasons why people opt to take out a loan for their purchase.
It is possible to purchase a boat in Australia for under $10,000 but you will probably be limited to used boats, small boats and jet skis. Larger, new boats will often come with a price tag of $100,000+.
You can get a feel for prices by searching an online boat classifieds website like boatsonline.com.au.
How long does it take to secure boat finance?
The time it takes to secure boat finance in Australia will vary depending on a number of factors. The best case is some lenders will be able to provide same-day approvals. But of course, this is not always possible.
You can maximise your chances of a quick approval on your boat loan by having all your documents ready to go, including recent payslips and identification. Some lenders may also ask for bank statements, so have those ready just in case.
An experienced boat finance broker can also help to speed up the process by avoiding common mistakes that could delay the process. This will allow you to get the loan approved faster and get out on the water sooner.
Other Considerations When Financing A Boat
Insurance
When you take out a secured boat loan, lenders will require that your boat is insured. This requirement is to protect the lender but it also protects you should anything go wrong.
If you apply for your boat loan through a broker like Credit One, they can also provide you with a quote for boat insurance at the same time.
Repayment Calculators
Before applying for a boat loan it helps to have an idea of what your repayments would be for the amount you wish to borrow. You can use a free boat loan calculator to get an estimate of your repayments. This will help to give you an idea of how much you could afford to borrow.
Please note that any online loan calculator will only provide you with an estimate. To get an exact quote on rates and repayments it's always best to speak with a finance broker.
Interest Rates
The interest rate on your boat loan will be one of the main variables that will affect the total cost of your marine loan. The interest rate will be determined by the lender and is based on the current cash rate, as well as your credit history and overall lending profile.
When taking out a secured boat loan, most lenders will be able to offer fixed interest rates, meaning that your rate will remain the same for the length of the loan. That means you don't need to worry even if the Reserve Bank increases the cash rate in future.
Visit The Credit One Website To Begin Your Boat Loan Application